Album Cover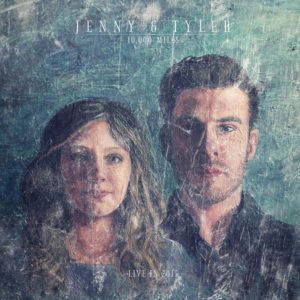 Behind the record
One of our favorite records is Simon & Garfunkel Live 1969. The record captures the energy and chemistry between Paul Simon and Art Garfunkel unlike any of their studio albums. The excitement of the crowds is palpable and the record itself embodies a moment in time, one that is certainly special in Simon & Garfunkel's career.
This is what we hoped to do with 10,000 Miles. We wanted to chronicle a special time for our music, one that marks a new beginning in our career with the release of Of This I'm Sure and a new adventure for our family traveling together. The 3 months we spent on the road during our release tour truly stretched us.
We traveled with a band for the first time and learned a lot about ourselves as we attempted to manage and connect with such a large group of people. We brought our two daughters, Jane (2) and Sara (6 months), along and learned just how hard, yet rewarding, it is to travel with little people. Jane is one of the friendliest kids on the planet and it was inspiring to watch her interact with new people and become fast friends with the folks in our band. Sara was her usual sweet self and thrived as she was loved by so many people.
So off we went, packing 10 people into our Sprinter van, Casper, and traipsing around the country like sardines from city to city. We traveled about 10,000 miles together, hence the name of the record. We made new friends, experienced the radical kindness of strangers, brewed lots of coffee in the van, and hoped to connect with audience after audience with a new conversation through song.
We think this record does a great job of communicating the passion and authenticity of the performances. The recordings are not perfect. There are some out of tune vocals and dropped beats here and there, but we hope that gives the songs a sincere and endearing quality. None of this would have been possible without our wonderful Kickstarter backers who paid for the band and the mixing and mastering of the record. No independent musician is truly independent. We rely on the support and encouragement of others to make music and in doing so hope to create great art that is bold, honest, and unafraid. We hope you enjoy this record.
Logos


Photos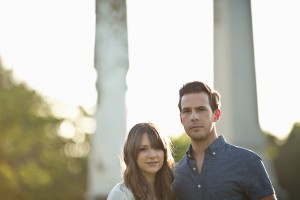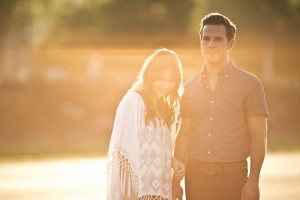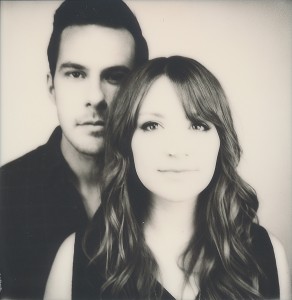 QR code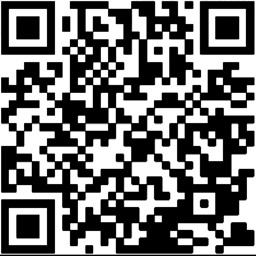 Poster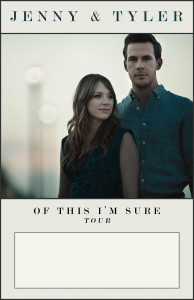 Web flyer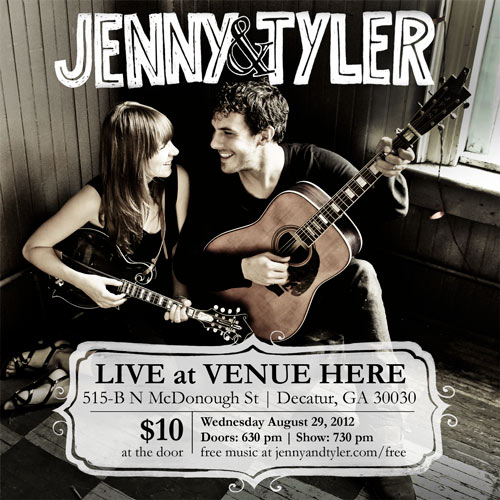 < 1000px PSD (Photoshop)
< 1000px TIF
< 2400px PSD (Photoshop)
< 2400px TIF

Bio
Jenny & Tyler – Of This I'm Sure – Bio
Press Quotes
"Husband-and-wife tag team Jenny & Tyler of Nashville unveil a countryfied, melodious pop sensibility on this new disc for Residence Music. The titular song and "Song for You" start off the album on a reverential mode…"Beloved One" is as lovely as its name implies…"Fly Away" is a hauntingly melancholic mulling on the possibilities of the future, and "To the Sea" is a fitting sendoff, both to the album and its contemplations."
– Washington Times
"…a similar vocal chemistry to Glen Hansard and Markéta Irglová but also a real knack for the dynamic bombast of Coldplay…"
– Popmatters
"Whether it's the driving, swelling orchestral title track or the gorgeous ambient folk-pop update of fan favorite "Song for You," Jenny & Tyler's latest stirs your soul with anthemic music, lyrics that wind their way through your heart and crushing harmonies."
– C-Ville
Blurb
Jenny & Tyler is a folk/pop act hailing from Nashville, Tennessee.
Drawing influence from Simon & Garfunkel, Glen Hansard, & Allison Krauss, Jenny & Tyler have found their place in today's landscape of singer/songwriter folk/pop. The duo has developed their sound through extensive touring, performing alongside Sara Groves, Green River Ordinance, Brandon Heath, & Mac Powell.
They have sold over 35,000 albums to date and played over 1,100 concert dates over the past 10 years of playing music together. Their songs have been featured on ABC's Pretty Little Liars, NY Med, MTV's Teen Mom, & YouTube's Kid President.