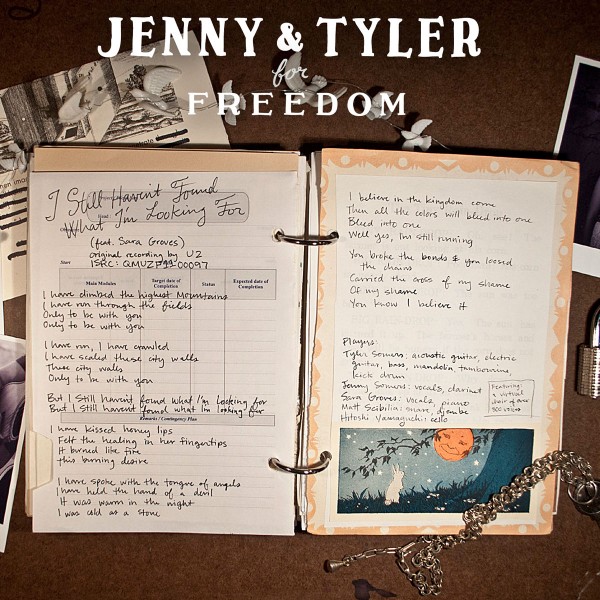 Believe it or not, neither Jenny nor I grew up listening to U2. We found them later in life. In fact, we ended up discovering U2's "The Joshua Tree" in mid-2011, after we asked fans on Facebook what music they would suggest we listen to. Days later, we would discover arguably one of the most iconic albums of all time. We'd heard a bunch of the songs on The Joshua Tree before, but never in the right order, never as a complete work. It blew us away. It still does today.
We chose "I Still Haven't Found What I'm Looking For" for this covers album because it's our favorite track on "The Joshua Tree." It's our favorite track because of a few reasons. First, the lyrics are some of the most profound and honest we've ever heard. Bono doesn't leave much out.
In the first verse, we see a love that very few of us have ever seen, yet a love that, I would argue, all of us long for. This love would "climb highest mountain", "run", crawled", "scaled these city walls", yet this love is not enough; he still hasn't found what he's looking for.
In verse two, Bono speaks of the thrill of a relationship. He uses sensual, visceral language: "I have kissed honey lips, felt her healing in my fingertips; it burned like fire, this burning desire. He then moves to spiritual experience, both light and dark. "I have spoke with the tongue of angels; I have held the hand of a devil." And while engaging the spiritual world felt euphoric at the time ("it was warm in the night"), he was left hardened and calloused ("I was cold as a stone"). Yet these experiences are not enough. His thirst is not fully quenched.
In verse three, Bono speaks of his belief in "the kingdom come, when all the colors…will bleed into one." I take this to mean the kingdom of God, where there is no distinguishing or discriminating between race, color, sex, or social/economic status (see Galatians 3:28). All who are in Christ Jesus are one. There is such power in these words, possibly because we know this not to be case in the world today, but some part of us so desires this to manifest. Do you not long for the day when all will be made right, when injustice will be replaced by righteousness, oppression by freedom, hate by love?
Bono then goes on to cite the ensuing freedom accomplished on the cross of Jesus Christ, where Jesus "broke the bonds…loosed the chains, carried the cross of my shame." This line feels like the pinnacle of the song. Yet even this is not enough; he still hasn't found what he's looking for. The honesty is brutal, yet so relevant. I believe that Bono is relating to the apostle Paul here. It not that the cross is not a complete work for the salvation of the world, it is. I think Bono would agree; "you know I believe it." It's that even though Bono has tasted the goodness and beauty of God and His grace, found life in and through Jesus, he's not arrived yet, that is, he and the world around him are not perfect – and he has not yet experienced perfection. See 1 Corinthians 13:12 and Philippians 1:23; we see dimly, as in a mirror. One day we shall we face to face. That is arguably what we're all looking for, to be with God, experiencing the fullness of His glory, unhindered.